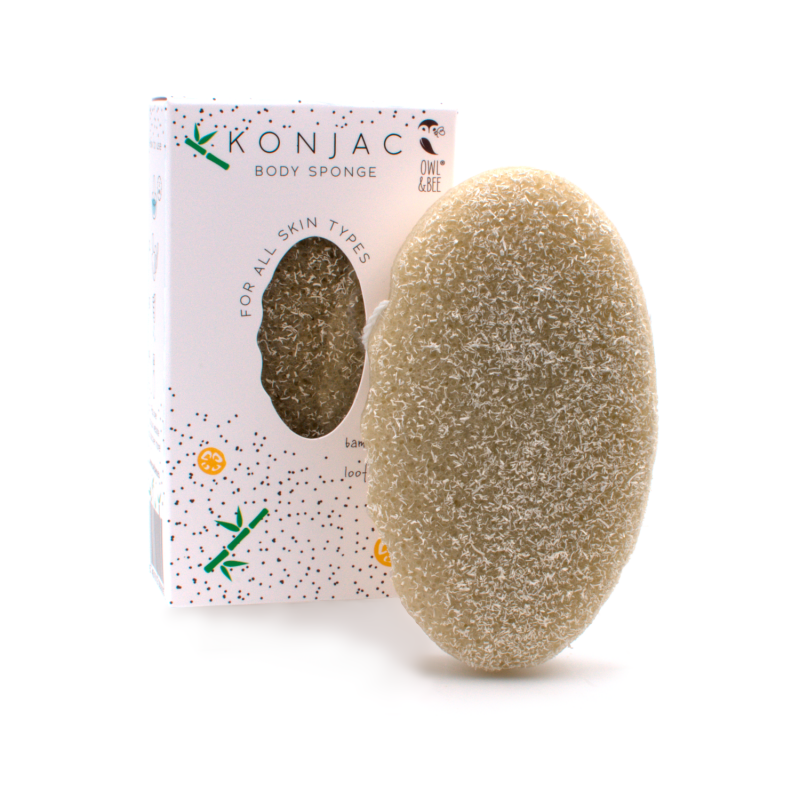  
Konjac body sponge - For all skin types
This double-sided body sponge is ideal for all skin types, and comes in a comfortable shape to fit in your hand. Konjac with bamboo extract provides natural cleansing, purifying, and massaging benefits, perfect for your daily wash! Flip the sponge over for a layer of exfoliating loofah sprinkles on one side for when you need a jolly good scrub!
loofah sprinkles
for exfoliation
bamboo extract
to moisturise
and regenerate
Once you try our amazing konjac and loofah body sponge, you will never look back!
Konjac sponges provide the perfect amount of gentle exfoliation to help cleanse your skin, with an unprecedented softness from a natural sponge. With one side of the sponge generously coated in loofah, the sponge provides a surface that is ideal for deep exfoliation.
Infused with bamboo extract, our konjac body sponge will leave your skin fresh and revitalised!
Our konjac body sponge works just as well, with or without soap, and we recommend using the sponge without soap as the sponge will massage your skin and encourage your skin's vital, natural oils to keep your skin beautiful and soft.
For best results, use the soft konjac side of the sponge as a part of your daily bathing routine. We recommend using the loofah side of the sponge one or twice a week.
Owl & Bee® konjac sponges do not contain colourants, perfumes, or preservatives — we keep our sponges totally natural, and never add any additives, and we proudly advertise our ingredients so you can be sure you are only getting the highest quality Konjac sponge possible.
As this sponge is an entirely natural product, made from plant materials, we recommend replacing your sponge every few months to avoid skin irritation, particularly if the sponge is consistently stored in a humid environment.
Every one of our konjac sponges is entirely biodegradable, ethically produced, and certified vegan.
Using our Konjac body sponges is easy! Just follow these simple steps:
To prepare your Konjac body sponge for use, first soak the sponge in water. When the sponge is new, it should be ready to use in about 30 seconds, but it may take up to 2 minutes to be rehydrated if it has been dry for a long time. To save water, we recommend soaking the sponge in a shallow bowl filled with about a cup of water.

Rub the sponge on over your skin, using either the soft, gently exfoliating Konjac side of the body sponge that is ideal for daily use, or the rougher side which has luffa sprinkles for powerful exfoliation without irritating the skin. The sponge can also be used with a shower gel or cream, but it's not necessary.

When finished, crush the sponge to eliminate excess water. For best results, try not to wring or twist the sponge as it may cause the sponge to weaken or tear.

Finally, use the convenient integrated cotton string to hang the body sponge to dry until your next use. Keeping the sponge in a well ventilated area so that it can dry will greatly extend the lifespan of the sponge.
Amorphophallus Konjac Root Extract Powder

(

Konjac

)

Bambusa Vulgaris Leaf Extract Powder

(

Bamboo Extract

)

Luffa Cylindrica Fruit

(

Loofah

)
3 other products in the same category: