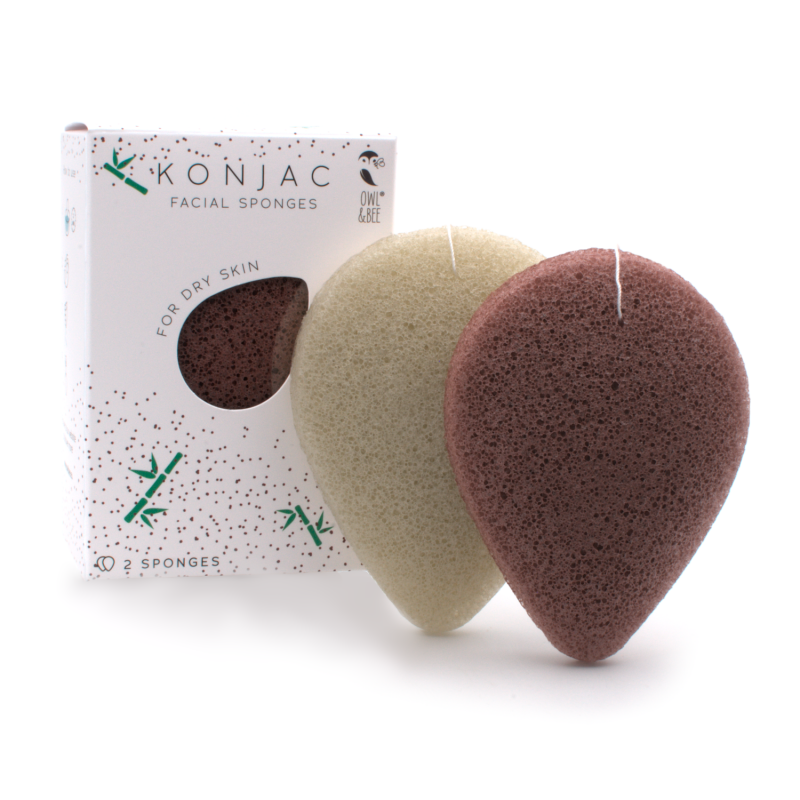  
Konjac esponjas faciales - Para la piel seca
Este paquete de dos esponjas faciales naturales de Konjac es perfecto para la piel seca. Comienza tu rutina de limpieza facial diaria con arcilla roja francesa para nutrir y hidratar tu piel, y termina tu día con extracto de bambú para calmar y masajear tu piel.
Using our Konjac facial sponges is easy! Just follow these simple steps:
To prepare your Konjac facial sponges for use, first soak each sponge in water. When the sponge is new, it should be ready to use in about 30 seconds, but it may take up to 2 minutes to be rehydrated if it has been dry for a long time. To save water, we recommend soaking each sponge in a shallow bowl filled with about a cup of water.

Rub the sponge on your face to gently cleanse and exfoliate. Each sponge can also be used with a shower gel or cream, but it's not necessary, however if you do use an additional cleanser with the sponge we recommend you continue to use the same cleanser with the same sponge to avoid mixing cleansing products within the sponge.

Two sponges are included in each box, where one is ideal for your morning cleansing routine, and the other for your evening cleansing routine. For best results, we recommend using the sponge from the front of the box as your main cleanser, such as after shaving or before applying make-up. The other sponge at the back of the box is ideally suited for cleansing oil, make-up, or other impurities from your face at the end of the day.

When finished, gently crush the wet sponge to eliminate excess water. For best results, try not to wring or twist the sponge as it may cause the sponge to weaken or tear.

Finally, use the convenient integrated cotton string to hang the body sponge to dry until your next use. Keeping the sponge in a well ventilated area so that it can dry will greatly extend the lifespan of the sponge.
French red clay

Amorphophallus Konjac Root Extract Powder (

Konjac

)
Illite (

Arcilla roja francesa

)

Bamboo

Amorphophallus Konjac Root Extract Powder (

Konjac

)
Bambusa Vulgaris Leaf Extract Powder (

Extracto de bambú

)
También podría interesarle
3 otros productos en la misma categoría: