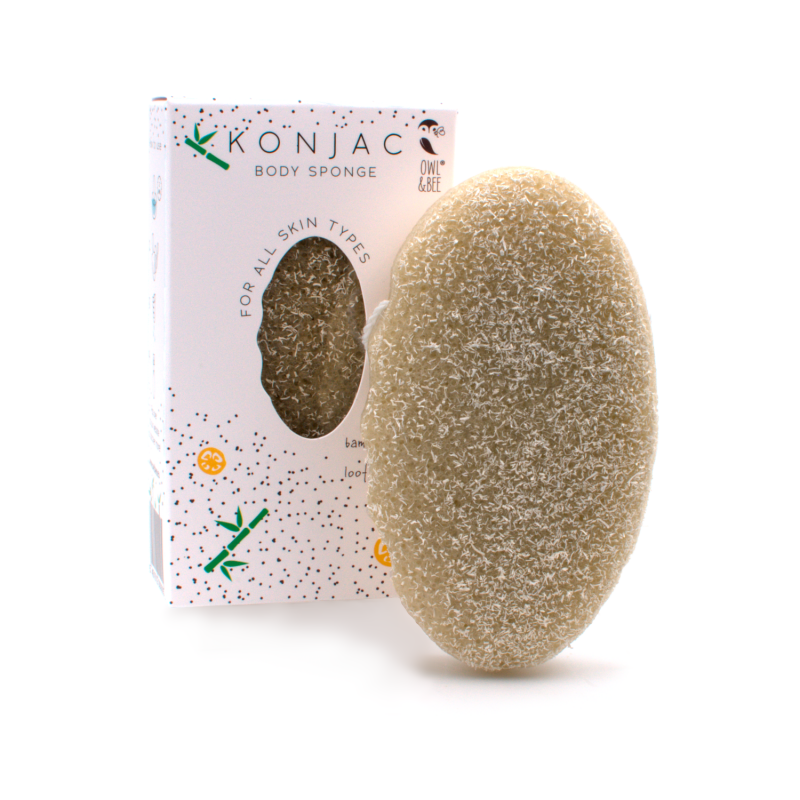  
Spugna Konjac per il corpo - Per tutti i tipi di pelle
Questa spugna double face per il corpo è ideale per tutti i tipi di pelle e la sua forma si adatta alla tua mano. Konjac con estratto di bambù fornisce benefici naturali per la pulizia, la purificazione e il massaggio, perfetti per il tuo lavaggio quotidiano! Capovolgi la spugna ed ecco uno strato di luffa esfoliante per quando hai bisogno di uno scrub allegro!
Using our Konjac body sponges is easy! Just follow these simple steps:
To prepare your Konjac body sponge for use, first soak the sponge in water. When the sponge is new, it should be ready to use in about 30 seconds, but it may take up to 2 minutes to be rehydrated if it has been dry for a long time. To save water, we recommend soaking the sponge in a shallow bowl filled with about a cup of water.

Rub the sponge on over your skin, using either the soft, gently exfoliating Konjac side of the body sponge that is ideal for daily use, or the rougher side which has luffa sprinkles for powerful exfoliation without irritating the skin. The sponge can also be used with a shower gel or cream, but it's not necessary.

When finished, crush the sponge to eliminate excess water. For best results, try not to wring or twist the sponge as it may cause the sponge to weaken or tear.

Finally, use the convenient integrated cotton string to hang the body sponge to dry until your next use. Keeping the sponge in a well ventilated area so that it can dry will greatly extend the lifespan of the sponge.
Amorphophallus Konjac Root Extract Powder (

Konjak

)
Bambusa Vulgaris Leaf Extract Powder (

Estratto di bambù

)
Luffa Cylindrica Fruit (

Luffa

)
3 altri prodotti della stessa categoria: