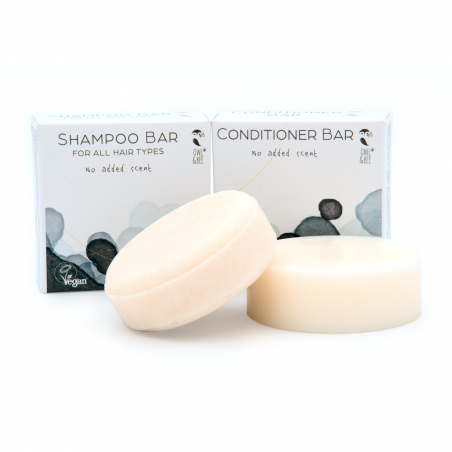  
Shampoo & conditioner bar set - For all hair types - No added scent
Both of our "no fuss" shampoo and conditioner bars together make an amazing team, so it makes sense to buy them both at the same time!
These bars are made with only the ingredients necessary to get the job done, and are suitable for all hair types - There's aren't even any added fragrances, so your hair will smell naturally clean!
Our incredible, ethical, vegan, sustainable, no added scent shampoo and conditioner bars make a perfect couple — they complement each other perfectly, so why not buy them together?
The Owl & Bee® no added scent shampoo and conditioner bar is perfect for people that wish to care for their hair in a natural and effective way!
No nasties are included, and all the ingredients are 100% vegan 🥦
This duo does not contain any colorants or added fragrances, which is perfect for sensitive skin
Suitable for all hair types 😁
Easy to travel with no airport security hassles and no risk of leaking as it's not a liquid, and it takes up less space in your toiletry bag!
Using this duo means using less water and no plastic waste compared their liquid equivalents
Both come in a separate FSC certified box made from paper from a mixture of sustainably forested trees and sustainably recycled paper
🌱 Officially certified with The Vegan Society — no animal derived ingredients, cruelty free — only 100% vegan ingredients!
This deal is only available online!
You'll love that Owl & Bee®'s coconut oil and clay enriched shampoo bar is never waxy or soapy and doesn't dry out your hair, and that the conditioner bar's cocoa butter, shea butter, and sweet almond oil combine to moisturize your hair and help to avoid a tangled mess after shampooing.
Both bars are of course ethically, socially, and environmentally responsibly produced in Europe, and certified 100% vegan by The Vegan Society, as for everything from Owl & Bee®!
Sometimes good things really do come in pairs!
Shampoo bar - For all hair types - No added scent

Sodium Cocoyl Isethionate

Sodium Coco-Sulfate

Cocamidopropyl Betaine

Cocos Nucifera Oil

(

Coconut Oil

)

Cetearyl Alcohol

Distearoylethyl Dimonium Chloride

Sodium Chloride

(

Salt

)

Kaolin

(

French Pink Clay

)

Panthenol

Aqua

(

Water

)

Conditioner bar - For all hair types - No added scent

Cetearyl Alcohol

Theobroma Cacao Seed Butter

(

Cocoa Butter

)

Behentrimonium Methosulfate

(

Rapeseed Wax

)

Butyrospermum Parkii Butter

(

Shea Butter

)

Prunus Amygdalus Dulcis Oil

(

Sweet Almond Oil

)

Cetyl Alcohol

Butylene Glycol
1 other product in the same category: